Itea virginica is a plant native to our area that is valued for its fragrant flowers and sometimes fantastic fall color. Given the common name of "Sweetspire", the June blooms of Itea which Dirr describes as "lightly fragrant" were aromatic enough to draw my attention this summer in the UT Gardens. In flower, Itea will have cascading white racemes that cover the entire plant. In his Manual of Woody Landscape Plants, Michael Dirr notes that when Itea is planted in full sun and maintained well, the result is more prolific flowering. The straight species of Virginia
Sweetspire may require some pruning to keep the plant from becoming leggy, but when pruning remember that this plant's flower buds form on old growth. That means the best time to prune is immediately after flowering to ensure flower buds for next year. In addition to having brilliant summer flowers, Virginia Sweetspire is also renowned for its fall color which ranges from yellows and oranges to deep, dark reds. Don't forget that Itea is an adaptable plant that is native to stream banks but will tolerate dry soil, so it will do fine in a variety of landscape conditions.
Dirr mentions that in 1990 there was only one cultivar of Virginia Sweetspire that was on the market; its name was 'Henry's Garnet'. How this variety came to be is an interesting story that begins with Michael Dirr noticing an Itea with particularly outstanding dark fall color at Swarthmore College. After being introduced to the market, a Josephine Henry brought a number of seedlings to her garden, some of which were given to Swarthmore College. Dirr states that the cultivar name comes from Josephine Henry and Swarthmore's school colors: 'Henry's Garnet'.
Itea virginica 'Little Henry' is valued for its compact form, fantastic fall color, and longer racemes. It was developed by Richard Feist - who is noted for developing compact varieties of Sweetspire and some neat varieties of Clethera - of Burlington, Kentucky's Hummingbird Nursery and marketed through Spring Meadow Nursery. Because 'Little Henry' may reach three feet in height, it is a great low-growing plant for borders, mass plantings, or maybe even as a ground cover. The Proven Winners, an association that evaluates plants based on outstanding landscape characteristics, lists 'Little Henry' a color choice plant, describing it as a, "delightful addition to the mixed border," and, "a rewarding experience throughout all seasons". With praise like that, who can't find something to love about this little plant?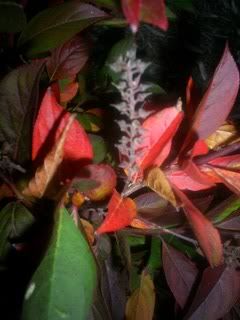 Form of Itea 'Little Henry' in the UT Gardens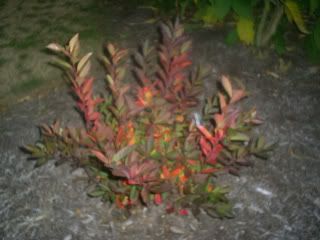 Fall color of Itea 'Little Henry' in the UT Gardens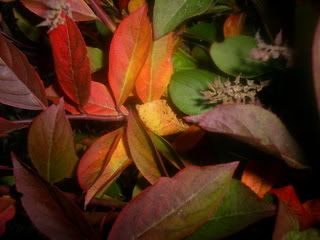 Seed head of Itea 'Little Henry' in the UT Gardens
Sources:
Dirr, Michael A. Manual of Woody Landscape Plants. 495-497.
"'Little Henry'". PW: Proven Winners. 2008. 12 November 2008
.

"'Little Henry'". Spring Meadow Nursery Inc. 12 November 2008 .