Walking through the lower rooms of the University of Tennessee Gardens, there is a unique tree that never fails to grab my attention. Its blue-green leaves with silver backs fluttering softly in the breeze bring to mind memories of a waterfall or fountain.
Cercidiphyllum japonicum
'Pendula', commonly known as the Weeping Katsura Tree, is an excellent specimen plant, especially for areas designed for calm and reflection. You would be hard-pressed
not
to feel more relaxed in the presence of its cool foliage color, graceful weeping habit, and gentle movement in the wind. It is pleasing to almost all the senses, especially since its leaves occasionally give off a fragrance likened to a cotton candy smell. Although this tree is deciduous, its light, shaggy bark and delicately hanging branches will still grab passerby attention in the winter months.
Michael Dirr in his
Manual of Woody Landscape Plants
mentions that this variety may grow 15 to 25 feet in height, but the specimen in the UT Gardens strikes me as being more around 30 feet tall. There is a similar variety called Cercidiphyllum magnificum 'Pendulum' (easy to confuse with 'Pendula') which could reach 50 feet in height. That variety has larger leaves, but according to Dirr may not weep as well as 'Pendula'.
'Pendula' would serve as a great specimen plant in the landscape for reasons already mentioned, and also because it is a fast grower that will fill in an area at the rate of one foot in height per year. One negative aspect to this plant is it would be a hassle to propagate one for yourself, unless you have the skill and tools to graft the weeping form onto a rootstock of the straight species.
In conclusion, this is a great plant any time of year, and would go great in an area of calm and reflection, a sensory garden, or especially near water.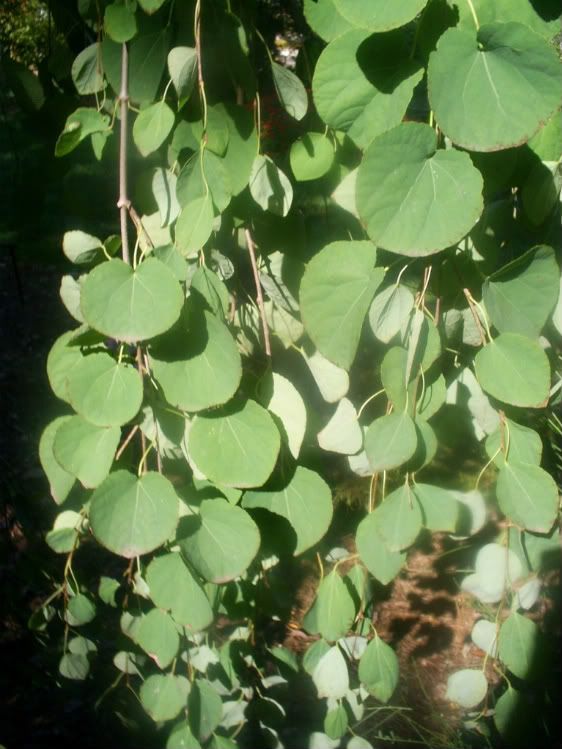 habit makes me think of a hunch-back
Sources:

Dirr, Michael A. Manual of Woody Landscape Plants. 207-208.