Red twig dogwoods add a splash of
color to the winter landscape
Winter is the season when the garden sleeps. Green turns to brown and flowers fade. Embracing the season of dormancy doesn't have to mean acceptance of a dreary landscape. Add a splash of color to the winter garden with red and yellow twig dogwoods that are most exciting in dormancy.
Strategically placed, colorful twig dogwoods help break the monotony of evergreen foundation plantings. Although twig dogwoods are attractive as a specimen plant, they really make a statement en masse. Plant at the border to create a river of color as a winter hedge.
Of all the interesting new varieties out there, my favorite is
Cornus alba 'Ivory Halo'
(
zones
3-7). While other twig dogwoods tend to be a blob of green during the growing season, variegated foliage makes 'Ivory Halo' an attractive planting for any time of year.
Young dormant stems of 'Ivory Halo' are a fiery red that are an excellent source of winter interest. For the best stem color, prune out old growth every spring or cut back hard the whole plant every few years.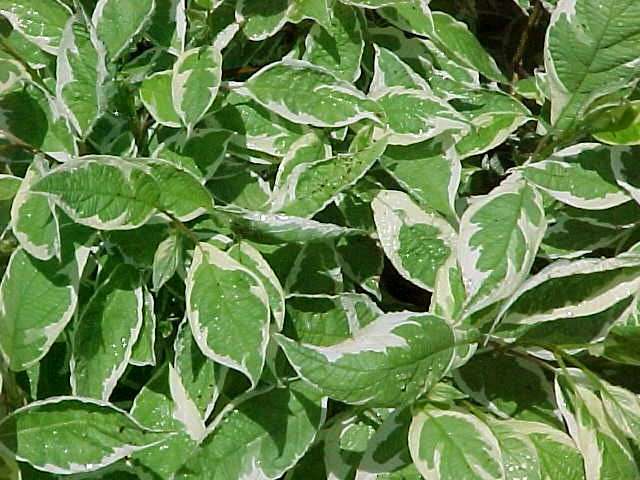 Variegated foliage makes 'Ivory Halo'
dogwood attractive at any time of year.
Plant dogwoods
in the winter when the plant is dormant. Although dogwoods won't be actively growing leaves and stems in the winter months, roots will anchor into the soil and give the plant a head start on growth in the spring.
Available from many garden centers, a red or yellow twig dogwood will make the perfect holiday gift for any garden enthusiast.
If you have any questions, ideas, or suggestions, leave a comment or shoot me an
email
.
What's your favorite way to use red or yellow twig dogwoods? What plants are your favorites for fighting the winter blues?
Fiery stems of red twig dogwoods contrast with white bark of paper birches (Betula papyrifera)
Photos courtesy of: